Castanets, "First Light's Freeze"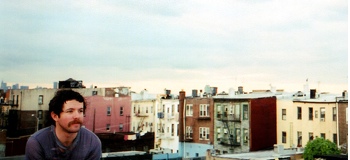 This review is long overdue. I've had the record for awhile now and become quite familiar with it. Good news is it really grows on you. Unlike Cathedral, whose first note is surreal and unique and whose darkness draws you right into its web, First Light's Freeze is a softer-spoken recording where the songs are often placed over drones or sparse arrangements. Many of the songs on this record begin with very little and gradually introduce more and more sound until they reach a cacophony.
Ray Raposa's lyrics and melodies are very patient. They incite creativity in the listener like Koan riddles, those Zen teachings that say things like, "A man sits on top of a hundred-foot pole. How can he go farther up?" Raposa's words have that same effect; they raise questions and get you thinking. Lines like, "it is all that I know to have changed in you that makes me work harder" from the lovely track
All That I Know
are a lot like the ocean, approaching that void between what is said and what can't be.
All that I know - mp3
"Friend I cannot befriend you true in searching for my light in you," begins track four,
Good Friend, Yr Hunger
. This song explores the Buddhist concept of the hungry ghost, a state of existence which Buddhists claim stems from negative karma. The hungry ghost lives between the earth and hell, called hungry because he has a large stomach and a tiny mouth. "Good friend, your hunger I will not host, oh no," Raposa concludes, and the song ends by bleeding into the saxaphone strangeness of
(We Drew Uncertain Breath)
.
Raposa continues exploring noise, gaining control over these waves of sound he likes so much (which anyone who's seen recent Castanets performances knows) as in the very short eighth track
Evidence (A Mask of Horizon, Distortion of Form)
. The climax of track nine,
No Voice Was Raised
, is a huge noise freakout that reveals a common thread in much of Raposa's recent recordings: the metamorphosis from something sparse (a single voice, the depiction of open space) to an ocean of strange lights and swirling sounds.
"Live truly in everyone," he repeats at the close of
Dancing With Someone (Privilege of Everything
), and these are the final words on the record. Maybe a glimpse into his life of seemingly unending travels, perpetually walking away, but grateful for that opportunity: "I want to forget this reckoning, proud and disbelieving, get the hell out of Denton with the privilege of everything, alive truly in everyone. Live truly in everyone."
For more about Castanets, please visit the
Asthmatic Kitty website
.